Package: icedove (42.0~b2-1)
Links for icedove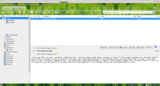 Debian Resources:
Download Source Package icedove:
Maintainers:
External Resources:
Similar packages:
Experimental package
Warning: This package is from the experimental distribution. That means it is likely unstable or buggy, and it may even cause data loss. Please be sure to consult the changelog and other possible documentation before using it.
Klient pro čtení emailů/novinek s RSS a antispamovým filtrem
Icedove je emailový klient Thunderbird s jinou značkou v názvu vhodný pro svobodné distribuce programu. Podporuje různé emailové účty (POP, IMAP, Gmail) a má integrovaný učící se antispamový filtr, konečně také umožňuje snadnou organizace emailů pomocí jejich značkování a virtuálních adresářů. Další funkce můžete přidat instalací rozšíření.
Snahou Icedove je vytvořit multiplatformní samostatnou emailovou aplikaci používající jazyk uživatelského rozhraní XUL.
Other Packages Related to icedove
dep:

debianutils (>= 1.16)

Miscellaneous utilities specific to Debian

dep:

fontconfig

generic font configuration library - support binaries

dep:

libatk1.0-0 (>= 1.12.4)

ATK accessibility toolkit

dep:

libc0.1 (>= 2.18)

Knihovna GNU C: Sdílené knihovny
also a virtual package provided by libc0.1-udeb

dep:

libcairo2 (>= 1.10.2-2~)

Cairo 2D vector graphics library

dep:

libdbus-1-3 (>= 1.9.14)

simple interprocess messaging system (library)

dep:

libdbus-glib-1-2 (>= 0.78)

simple interprocess messaging system (GLib-based shared library)

dep:

libevent-2.0-5 (>= 2.0.10-stable)

Asynchronous event notification library

dep:

libffi6 (>= 3.0.4)

Foreign Function Interface library runtime

dep:

libfontconfig1 (>= 2.11)

Všeobecná knihovna pro nastavení písma - běhová část

dep:

libfreetype6 (>= 2.2.1)

Engine písma FreeType 2, soubory sdílené knihovny

dep:

libgcc1 (>= 1:4.1.1)

Knihovna pro překladač GCC

dep:

libgdk-pixbuf2.0-0 (>= 2.22.0)

GDK Pixbuf library

dep:

libglib2.0-0 (>= 2.22.0)

GLib library of C routines

dep:

libgtk2.0-0 (>= 2.24.0)

GTK+ graphical user interface library

dep:

libhunspell-1.3-0 (>= 1.3.3)

spell checker and morphological analyzer (shared library)

dep:

libicu55 (>= 55.1-1~)

International Components for Unicode (Mezinárodní komponenty pro Unicode)

dep:

libnspr4 (>= 2:4.10.3)

Přenositelná běhová knihovna Netscape

dep:

libnss3 (>= 2:3.19)

Knihovny Network Security Service

dep:

libpango-1.0-0 (>= 1.14.0)

Formátování a vykreslování mezinárodního textu

dep:

libpangocairo-1.0-0 (>= 1.14.0)

Formátování a vykreslování mezinárodního textu

dep:

libpangoft2-1.0-0 (>= 1.14.0)

Formátování a vykreslování mezinárodního textu

dep:

libpixman-1-0 (>= 0.19.6)

Knihovna pro práci s pixely pro X a cairo

dep:

libsqlite3-0 (>= 3.7.10)

Sdílená knihovna SQLite 3

dep:

libstartup-notification0 (>= 0.8)

Knihovna pro znázornění startu programu (sdílená knihovna)

dep:

libstdc++6 (>= 5.2)

GNU Standard C++ Library v3

dep:

libvpx2 (>= 1.4.0)

Package not available

dep:

libx11-6

Knihovna klientské části X11

dep:

libxext6

X11 miscellaneous extension library

dep:

libxrender1

Klientská knihovna X Rendering Extension

dep:

libxt6

X11 toolkit intrinsics library

dep:

psmisc

utilities that use the proc file system

dep:

zlib1g (>= 1:1.2.0)

komprimační knihovna - runtime
rec:

iceowl-extension (= 42.0~b2-1)

Calendar Extension for Thunderbird/Icedove

rec:

myspell-en-us

Package not available

or hunspell-dictionary

Package not available

or myspell-dictionary

Package not available
sug:

fonts-lyx

TrueType versions of some TeX fonts used by LyX

sug:

libgssapi-krb5-2

běhové knihovny MIT Kerberos - mechanismus krb5 GSS-API
Download icedove
Download for all available architectures

| Architecture | Package Size | Installed Size | Files |
| --- | --- | --- | --- |
| kfreebsd-i386 | 31,401.3 kB | 85,372.0 kB | [list of files] |