Package: pngquant (2.12.2-1)
Links for pngquant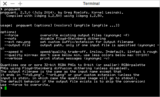 Debian Resources:
Download Source Package pngquant:
Maintainers:
External Resources:
Similar packages:
Nástroj pro optimalizaci PNG (Portable Network Graphics)
pngquant je nástroj příkazové řádky, který umí zpracovat obrázky PNG, zejména ty, které obsahují kanál alfa, mají méně jak 8b paletu RGBA. Takové obrázky jsou obvykle dvakrát až čtyřikrát menší než jejich plné 32b verze a průhlednost je často mnohem lepší. To předurčuje pngquant pro použití na webu a při vývoji pro PlayStation 2, kde je formát textur založen na paletě RGBA (ačkoli není komprimován PNG). Stejná technika se používá na řadě obrázků, které naleznete na stránce http://www.libpng.org/pub/png/pngs-img.html a výsledek je často nerozlišitelný od originálu, obrázku PNG v paletě truecolor.
Optimalizační programy (jako pngcrush a optipng) optimalizují kompresi, obvykle bezztrátovou, naproti tomu pngquant snižuje barevnou paletu na 256 (nebo menší) a používá kombinací RGBA a to je ztrátové.
Other Packages Related to pngquant