Package: xwrited (3-1)
Links for xwrited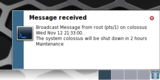 Debian Resources:
Download Source Package xwrited:
Maintainer:
External Resources:
Similar packages:
display write and wall messages as desktop notifications
The xwrited utility displays write(1) and wall(1) messages as desktop notifications. A notification daemon compliant to the freedesktop.org Desktop Notification Specification draft needs to be running in order to display the notifications.
This utility is useful e.g. to send (forward) broadcast (wall) messages to all users from cronjobs or system daemons.
The xwrited daemon is automatically started for each new X session after the installation of this package.
Other Packages Related to xwrited
dep:

libc6 (>= 2.17) [arm64, ppc64el]

GNU C Library: Shared libraries
also a virtual package provided by libc6-udeb

dep:

libc6 (>= 2.4) [not arm64, ppc64el]

dep:

libglib2.0-0 (>= 2.39.90)

GLib library of C routines

dep:

libutempter0 (>= 1.1.5)

privileged helper for utmp/wtmp updates (runtime)