Package: xrdp (0.9.9-1+deb10u3 and others) [security]
Links for xrdp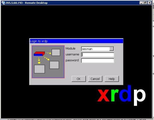 Debian Resources:
Download Source Package xrdp:
Maintainers:
External Resources:
Similar packages:
Remote Desktop Protocol (RDP) server
xrdp offers a graphical login to a remote client using RDP (the Remote Desktop Protocol). xrdp can connect to a locally created X.org session with the xorgxrdp drivers, to a VNC X11 server, and forward to another RDP server.
xrdp accepts connections from freerdp, rdesktop, and the built-in terminal server / remote desktop clients of Microsoft Windows operating systems. In the xorgxrdp (which replaces X11RDP) and VNC modes, it provides a fully functional Linux terminal server, offering an X-Window desktop to the user. In the RDP or VNC forwarding mode, any sort of desktop can be used.
Other Packages Related to xrdp
rec:

xorgxrdp

Remote Desktop Protocol (RDP) modules for X.org
sug:

guacamole

Package not available

sug:

xrdp-pulseaudio-installer

Package not available
Download xrdp
Download for all available architectures

| Architecture | Version | Package Size | Installed Size | Files |
| --- | --- | --- | --- | --- |
| amd64 | 0.9.9-1+deb10u3 | 425.3 kB | 2,901.0 kB | [list of files] |
| arm64 | 0.9.9-1+deb10u3 | 410.0 kB | 2,823.0 kB | [list of files] |
| armel | 0.9.9-1+deb10u1 | 381.0 kB | 2,642.0 kB | [list of files] |
| armhf | 0.9.9-1+deb10u3 | 388.8 kB | 2,389.0 kB | [list of files] |
| i386 | 0.9.9-1+deb10u3 | 456.5 kB | 2,952.0 kB | [list of files] |
| mips | 0.9.9-1+deb10u1 | 419.0 kB | 2,949.0 kB | [list of files] |
| mips64el | 0.9.9-1+deb10u1 | 427.8 kB | 3,216.0 kB | [list of files] |
| mipsel | 0.9.9-1+deb10u1 | 424.7 kB | 2,950.0 kB | [list of files] |
| ppc64el | 0.9.9-1+deb10u1 | 459.0 kB | 3,717.0 kB | [list of files] |
| s390x | 0.9.9-1+deb10u1 | 407.4 kB | 3,023.0 kB | [list of files] |