Package: smenu (0.9.14-1)
Links for smenu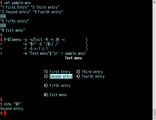 Debian Resources:
Download Source Package smenu:
Maintainer:
External Resources:
Similar packages:
curse-based CLI selection box
smenu is a command-line utility that allows you to use words coming from the standard input to create a nice selection window just below the cursor. Your selection will then be sent to standard output.
You can use it to create interactive menus in scripts, for instance.
Other Packages Related to smenu
dep:

libc6 (>= 2.14) [amd64]

GNU C Library: Shared libraries
also a virtual package provided by libc6-udeb

dep:

libc6 (>= 2.17) [arm64, ppc64el]

dep:

libc6 (>= 2.4) [not amd64, arm64, ppc64el]

dep:

libtinfo6 (>= 6)

shared low-level terminfo library for terminal handling