Package: miceamaze (4.2.1-3 and others)
Links for miceamaze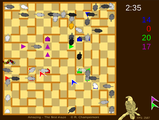 Debian Resources:
Download Source Package miceamaze:
Maintainer:
External Resources:
Similar packages:
video game with mice in a maze
MiceAmaze is a video game that features a maze with mice and snakes. The goal is to bring the most mice to your house by placing arrows on the maze floor. But beware the snakes that want to eat them!
Other Packages Related to miceamaze
Download miceamaze
Download for all available architectures

| Architecture | Version | Package Size | Installed Size | Files |
| --- | --- | --- | --- | --- |
| amd64 | 4.2.1-3+b1 | 12,202.3 kB | 12,557.0 kB | [list of files] |
| arm64 | 4.2.1-3+b1 | 12,196.2 kB | 12,537.0 kB | [list of files] |
| armel | 4.2.1-3+b1 | 12,192.1 kB | 12,524.0 kB | [list of files] |
| armhf | 4.2.1-3+b1 | 12,194.1 kB | 12,480.0 kB | [list of files] |
| i386 | 4.2.1-3+b1 | 12,208.7 kB | 12,568.0 kB | [list of files] |
| mips | 4.2.1-3+b1 | 12,201.7 kB | 12,601.0 kB | [list of files] |
| mips64el | 4.2.1-3+b1 | 12,204.4 kB | 12,604.0 kB | [list of files] |
| mipsel | 4.2.1-3+b1 | 12,203.2 kB | 12,601.0 kB | [list of files] |
| ppc64el | 4.2.1-3+b1 | 12,203.5 kB | 12,605.0 kB | [list of files] |
| s390x | 4.2.1-3+b1 | 12,197.9 kB | 12,577.0 kB | [list of files] |