Package: hdparm (9.58+ds-1)
Links for hdparm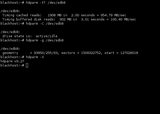 Debian Resources:
Download Source Package hdparm:
Maintainer:
External Resources:
Similar packages:
tune hard disk parameters for high performance
Get/set device parameters for Linux SATA/IDE drives. Provides a command line interface to various kernel interfaces supported by the Linux SATA/PATA/SAS "libata" subsystem and the older IDE driver subsystem. Many newer (2008 and later) USB drive enclosures now also support "SAT" (SCSI-ATA Command Translation) and therefore may also work with hdparm.
Other Packages Related to hdparm
dep:

libc6 (>= 2.14) [amd64]

GNU C Library: Shared libraries
also a virtual package provided by libc6-udeb

dep:

libc6 (>= 2.17) [arm64, ppc64el]

dep:

libc6 (>= 2.7) [not amd64, arm64, ppc64el]

dep:

lsb-base

Linux Standard Base init script functionality
sug:

apmd

Package not available