Package: gniall (0.7.1-8)
Links for gniall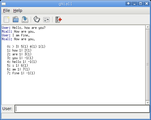 Debian Resources:
Download Source Package gniall:
Maintainer:
Similar packages:
program that tries to learn a human language
gNiall attempts to learn whatever language you try to teach it. It is basically a dissociator: it collects statistics on sentences you type and tries to construct meaningful replies. gNiall is inspired by Niall, an Amiga program by Matthew Peck.
Other Packages Related to gniall
dep:

libc6 (>= 2.14) [amd64]

GNU C Library: Shared libraries
also a virtual package provided by libc6-udeb

dep:

libc6 (>= 2.17) [arm64, ppc64el]

dep:

libc6 (>= 2.7) [not amd64, arm64, ppc64el]

dep:

libglib2.0-0 (>= 2.14.0)

GLib library of C routines

dep:

libgtk-3-0 (>= 3.16.2)

GTK+ graphical user interface library