Package: freeciv-client-sdl (2.6.0-2)
Links for freeciv-client-sdl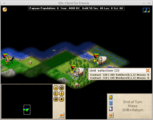 Debian Resources:
Download Source Package freeciv:
Maintainers:
External Resources:
Similar packages:
Civilization turn based strategy game (SDL client)
Freeciv is a free clone of the turn based strategy game Civilization. In this game, each player becomes leader of a civilisation, fighting to obtain the ultimate goal: the extinction of all other civilisations.
This version of Freeciv is based on SDL, the Simple DirectMedia Layer library. It is recommended to install the »freeciv-client-gtk3« package and to use the GTK 3 client unless you really want to try this one. The SDL client offers a different look&feel but lacks some functionality of the GTK 3 client.
Other Packages Related to freeciv-client-sdl
rec:

freeciv-server (= 2.6.0-2)

Civilization turn based strategy game (server files)
Civilization turn based strategy game (miscellaneous extras)

Civilization turn based strategy game (standard sound pack)
Download freeciv-client-sdl
Download for all available architectures

| Architecture | Package Size | Installed Size | Files |
| --- | --- | --- | --- |
| amd64 | 831.7 kB | 2,492.0 kB | [list of files] |
| arm64 | 762.4 kB | 2,456.0 kB | [list of files] |
| armel | 708.7 kB | 2,210.0 kB | [list of files] |
| armhf | 736.9 kB | 1,606.0 kB | [list of files] |
| i386 | 895.1 kB | 2,963.0 kB | [list of files] |
| mips | 737.4 kB | 3,035.0 kB | [list of files] |
| mips64el | 741.6 kB | 3,126.0 kB | [list of files] |
| mipsel | 749.8 kB | 3,035.0 kB | [list of files] |
| ppc64el | 874.8 kB | 3,364.0 kB | [list of files] |
| s390x | 752.1 kB | 2,692.0 kB | [list of files] |