Package: f3 (7.1-1)
Links for f3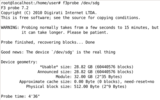 Debian Resources:
Download Source Package f3:
Maintainer:
External Resources:
Similar packages:
test real flash memory capacity
F3 (Fight Flash Fraud or Fight Fake Flash) tests the full capacity of a flash card (flash drive, flash disk, pendrive).
F3 writes to the card and then checks if can read it. It will assure you have not been bought a card with a smaller capacity than stated. Note that the main goal of F3 is not to fix your removable media. However, there are resources to mark the invalid areas.
This package provides these executables: f3write, f3read, f3brew, f3fix and f3probe.
Other Packages Related to f3
dep:

libc6 (>= 2.17) [arm64, ppc64el]

GNU C Library: Shared libraries
also a virtual package provided by libc6-udeb

dep:

libc6 (>= 2.8) [not arm64, ppc64el]

dep:

libparted2 (>= 3.1)

disk partition manipulator - shared library

dep:

libudev1 (>= 183)

libudev shared library