Package: exa (0.8.0-2)
Links for exa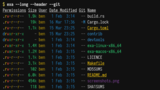 Debian Resources:
Download Source Package rust-exa:
Maintainers:
External Resources:
Similar packages:
Modern replacement for ls
exa is an improved file lister with more features and better defaults. It uses colours to distinguish file types and metadata. It knows about symlinks, extended attributes, and Git. And it's small, fast, and just

 one single binary.

This package contains the following binaries built from the Rust crate "exa":

 - exa

Other Packages Related to exa
dep:

libc6 (>= 2.18) [amd64, arm64, mips64el, ppc64el, s390x]

GNU C Library: Shared libraries
also a virtual package provided by libc6-udeb

dep:

libc6 (>= 2.28) [armel, armhf, i386, mips, mipsel]

dep:

libgcc1 (>= 1:4.2) [not armel, armhf]

GCC support library

dep:

libgcc1 (>= 1:4.3) [armel, armhf]

dep:

libgit2-27 (>= 0.26.0)

low-level Git library