Package: cmatrix (1.2a+git20181122-1)
Links for cmatrix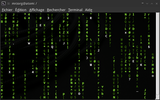 Debian Resources:
Download Source Package cmatrix:
Maintainer:
External Resources:
Similar packages:
simulates the display from "The Matrix"
Screen saver for the terminal based in the movie "The Matrix". It works in terminals of all dimensions and have the following features:

 * Support terminal resize.
 * Screen saver mode: any key closes it.
 * Selectable color.
 * Change text scroll rate.

Other Packages Related to cmatrix
dep:

libc6 (>= 2.17) [arm64, ppc64el]

GNU C Library: Shared libraries
also a virtual package provided by libc6-udeb

dep:

libc6 (>= 2.4) [not arm64, ppc64el]

dep:

libncurses6 (>= 6)

shared libraries for terminal handling

dep:

libtinfo6 (>= 6)

shared low-level terminfo library for terminal handling
rec:

kbd

Linux console font and keytable utilities