Package: ntpdate (1:4.2.8p13+dfsg-2)
Links for ntpdate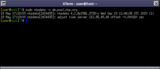 Debian Resources:
Download Source Package ntp:
Maintainers:
External Resources:
Similar packages:
client for setting system time from NTP servers (deprecated)
NTP, the Network Time Protocol, is used to keep computer clocks accurate by synchronizing them over the Internet or a local network, or by following an accurate hardware receiver that interprets GPS, DCF-77, NIST or similar time signals.
ntpdate is deprecated. Please use sntp instead for manual or scripted NTP queries/syncs.
Other Packages Related to ntpdate
dep:

libc6 (>= 2.17) [amd64, arm64, mips64el, ppc64el, s390x]

GNU C Library: Shared libraries
also a virtual package provided by libc6-udeb

dep:

libc6 (>= 2.28) [armel, armhf, i386, mips, mipsel]

dep:

libssl1.1 (>= 1.1.0)

Secure Sockets Layer toolkit - shared libraries

dep:

netbase

Basic TCP/IP networking system