Package: links2 (2.21-1 and others)
Links for links2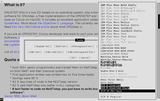 Debian Resources:
Download Source Package links2:
Maintainer:
External Resources:
Similar packages:
Web browser running in both graphics and text mode
Links is a graphics and text mode WWW browser, similar to Lynx. It displays tables, frames, downloads on background, uses HTTP/1.1 keepalive connections. In graphics mode it displays PNG, JPEG, GIF, TIFF, and XBM pictures, runs external bindings on other types, and features anti-aliased font, smooth image zooming, 48-bit dithering, and gamma and aspect ratio correction.
Other Packages Related to links2
rec:

ca-certificates

Common CA certificates

rec:

xterm

X terminal emulator
virtual package provided by cool-retro-term, deepin-terminal, eterm, gnome-terminal, kitty, konsole, lxterminal, mate-terminal, mlterm, mlterm-tiny, pterm, qterminal, rxvt-unicode, sakura, stterm, terminator, terminology, termit, tilix, xfce4-terminal, xiterm+thai, xterm
Download links2
Download for all available architectures

| Architecture | Version | Package Size | Installed Size | Files |
| --- | --- | --- | --- | --- |
| amd64 | 2.21-1+b1 | 3,002.4 kB | 5,418.0 kB | [list of files] |
| arm64 | 2.21-1+b1 | 2,938.0 kB | 5,446.0 kB | [list of files] |
| armel | 2.21-1+b1 | 2,872.0 kB | 4,637.0 kB | [list of files] |
| armhf | 2.21-1+b1 | 2,881.8 kB | 4,377.0 kB | [list of files] |
| i386 | 2.21-1+b1 | 2,965.8 kB | 4,865.0 kB | [list of files] |
| mips64el | 2.21-1+b1 | 2,900.1 kB | 5,359.0 kB | [list of files] |
| mipsel | 2.21-1+b1 | 2,904.0 kB | 4,852.0 kB | [list of files] |
| ppc64el | 2.21-1+b1 | 3,005.1 kB | 5,762.0 kB | [list of files] |
| s390x | 2.21-1+b1 | 2,942.9 kB | 5,466.0 kB | [list of files] |