Package: fwbuilder (5.3.7-3 and others)
Links for fwbuilder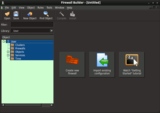 Debian Resources:
Download Source Package fwbuilder:
Maintainer:
External Resources:
Similar packages:
Firewall administration tool GUI
Firewall Builder consists of an object-oriented GUI and a set of policy compilers for various firewall platforms. In Firewall Builder, firewall policy is a set of rules, each rule consists of abstract objects which represent real network objects and services (hosts, routers, firewalls, networks, protocols). Firewall Builder helps the user maintain a database of objects and allows policy editing using simple drag-and-drop operations.
This is the GUI part of fwbuilder
Other Packages Related to fwbuilder
rec:

fwbuilder-doc

Firewall administration tool GUI documentation

rec:

rcs

The GNU Revision Control System
Download fwbuilder
Download for all available architectures

| Architecture | Version | Package Size | Installed Size | Files |
| --- | --- | --- | --- | --- |
| amd64 | 5.3.7-3+b2 | 7,597.3 kB | 37,979.0 kB | [list of files] |
| arm64 | 5.3.7-3+b2 | 6,878.7 kB | 36,087.0 kB | [list of files] |
| armel | 5.3.7-3+b1 | 6,317.8 kB | 32,013.0 kB | [list of files] |
| armhf | 5.3.7-3+b1 | 6,274.0 kB | 24,993.0 kB | [list of files] |
| i386 | 5.3.7-3+b2 | 7,738.6 kB | 36,889.0 kB | [list of files] |
| mips64el | 5.3.7-3+b2 | 7,599.2 kB | 65,229.0 kB | [list of files] |
| mipsel | 5.3.7-3+b2 | 7,317.4 kB | 57,146.0 kB | [list of files] |
| ppc64el | 5.3.7-3+b2 | 7,392.2 kB | 45,799.0 kB | [list of files] |
| s390x | 5.3.7-3+b2 | 7,130.3 kB | 43,231.0 kB | [list of files] |