Package: emacs-lucid (1:27.1+1-3.1)
Links for emacs-lucid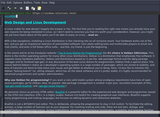 Debian Resources:
Download Source Package emacs:
Maintainer:
External Resources:
Similar packages:
GNU Emacs editor (with Lucid GUI support)
GNU Emacs is the extensible self-documenting text editor. This package contains a version of Emacs with support for a graphical user interface based on the Lucid toolkit (instead of the GTK+ interface provided by the emacs-gtk package). Until some known GTK+ problems are fixed, this version may help avoid crashing Emacs during an emacsclient disconnect. See https://bugs.debian.org/cgi-bin/bugreport.cgi?bug=567934 and https://bugzilla.gnome.org/show_bug.cgi?id=85715 for more information.
Other Packages Related to emacs-lucid
GNU Emacs common non-DFSG items, including the core documentation
Download emacs-lucid
Download for all available architectures

| Architecture | Package Size | Installed Size | Files |
| --- | --- | --- | --- |
| amd64 | 3,256.0 kB | 19,517.0 kB | [list of files] |
| arm64 | 3,164.3 kB | 23,517.0 kB | [list of files] |
| armel | 2,998.1 kB | 14,141.0 kB | [list of files] |
| armhf | 3,024.5 kB | 13,497.0 kB | [list of files] |
| i386 | 3,256.7 kB | 14,785.0 kB | [list of files] |
| mips64el | 3,146.8 kB | 19,837.0 kB | [list of files] |
| mipsel | 3,133.6 kB | 14,789.0 kB | [list of files] |
| ppc64el | 3,270.2 kB | 20,180.0 kB | [list of files] |
| s390x | 3,054.7 kB | 19,627.0 kB | [list of files] |