Package: xvile (9.8w-1)
Links for xvile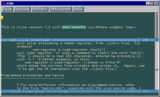 Debian Resources:
Download Source Package vile:
Maintainers:
External Resources:
Similar packages:
VI Like Emacs - vi work-alike (X11)
vile is a text editor which is extremely compatible with vi in terms of ``finger feel''. In addition, it has extended capabilities in many areas, notably multi-file editing and viewing, syntax highlighting, key rebinding, an optional embedded perl interpreter, and real X window system support.
This package contains the X11 binary. Required support files are contained in vile-common. Source code highlighting filters are in vile-filters. A character-mode binary is in the vile package.
Other Packages Related to xvile