Пакет: thunar (1.2.3-4 и други)
Връзки за thunar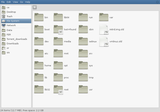 Ресурси за Debian:
Изтегляне на пакет-източник thunar.
Отговорници:
Външни препратки:
Подобни пакети:
File Manager for Xfce
Thunar is the file manager designed to be the default file manager of Xfce 4.6 It has been designed to be fast and easy to use.
An Xfce plugin can manages the trash, if xfce4-panel is installed as well. Please read README.Debian for volume management stuff.
Други пакети, свързани с thunar
Archive plugin for Thunar file manager

Media tags plugin for Thunar file manager
Изтегляне на thunar
Изтегляне за всички налични архитектури

| Архитектура | Версия | Големина на пакета | Големина след инсталиране | Файлове |
| --- | --- | --- | --- | --- |
| amd64 | 1.2.3-4+b1 | 308,4 кБ | 901,0 кБ | [списък на файловете] |
| armel | 1.2.3-4+b1 | 262,5 кБ | 738,0 кБ | [списък на файловете] |
| armhf | 1.2.3-4+b1 | 249,0 кБ | 606,0 кБ | [списък на файловете] |
| i386 | 1.2.3-4+b1 | 314,8 кБ | 914,0 кБ | [списък на файловете] |
| ia64 | 1.2.3-4+b1 | 439,8 кБ | 1 678,0 кБ | [списък на файловете] |
| kfreebsd-amd64 | 1.2.3-4+b1 | 297,8 кБ | 803,0 кБ | [списък на файловете] |
| kfreebsd-i386 | 1.2.3-4+b1 | 296,7 кБ | 796,0 кБ | [списък на файловете] |
| mips | 1.2.3-4+b1 | 251,5 кБ | 846,0 кБ | [списък на файловете] |
| mipsel | 1.2.3-4+b1 | 248,4 кБ | 846,0 кБ | [списък на файловете] |
| powerpc | 1.2.3-4+b1 | 309,6 кБ | 954,0 кБ | [списък на файловете] |
| s390 | 1.2.3-4+b1 | 323,6 кБ | 974,0 кБ | [списък на файловете] |
| s390x | 1.2.3-4+b1 | 311,5 кБ | 1 001,0 кБ | [списък на файловете] |
| sparc | 1.2.3-4+b1 | 269,5 кБ | 787,0 кБ | [списък на файловете] |