Пакет: claws-mail (3.8.1-2+deb7u1)
Връзки за claws-mail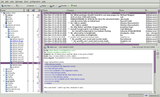 Ресурси за Debian:
Изтегляне на пакет-източник claws-mail.
Отговорници:
Външни препратки:
Подобни пакети:
Fast, lightweight and user-friendly GTK2 based email client
Claws Mail is a powerful and full-featured mail client formerly called Sylpheed-Claws. It is also extensible using loadable plugins, which can provide support for additional features, like other storage formats, feed reader, calendar management, mail filtering, etc.
Други пакети, свързани с claws-mail
rec:

aspell-en

English dictionary for GNU Aspell
виртуален пакет, предлаган от aspell-am, aspell-ar, aspell-ar-large, aspell-bg, aspell-br, aspell-ca, aspell-cs, aspell-cy, aspell-de, aspell-de-alt, aspell-el, aspell-en, aspell-eo, aspell-eo-cx7, aspell-es, aspell-et, aspell-eu-es, aspell-fa, aspell-fo, aspell-fr, aspell-ga, aspell-gl-minimos, aspell-he, aspell-hr, aspell-hsb, aspell-hu, aspell-hy, aspell-is, aspell-it, aspell-kk, aspell-ku, aspell-lt, aspell-lv, aspell-nl, aspell-pl, aspell-pt-br, aspell-pt-pt, aspell-ro, aspell-ru, aspell-sk, aspell-sl, aspell-sv, aspell-tl, aspell-uk, aspell-uz

rec:

claws-mail-i18n

Locale data for Claws Mail (i18n support)

rec:

xfonts-100dpi

100 dpi fonts for X

или xfonts-75dpi

75 dpi fonts for X
100 dpi fonts for X (transcoded from ISO 10646-1)
75 dpi fonts for X (transcoded from ISO 10646-1)
Изтегляне на claws-mail
Изтегляне за всички налични архитектури

| Архитектура | Големина на пакета | Големина след инсталиране | Файлове |
| --- | --- | --- | --- |
| powerpc | 1 598,6 кБ | 3 564,0 кБ | [списък на файловете] |