Пакет: gimp-gap (2.6.0+dfsg-3)
Връзки за gimp-gap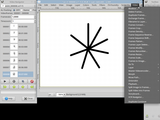 Ресурси за Debian:
Изтегляне на пакет-източник gimp-gap.
Отговорник:
Външни препратки:
Подобни пакети:
animation package for the GIMP
The GIMP Animation Package (GAP) is a collection of plug-ins to extend the GIMP with capabilities to edit and create animations and movies as sequences of single frames. It adds a Video menu to image windows in the GIMP.
Други пакети, свързани с gimp-gap
Изтегляне на gimp-gap
Изтегляне за всички налични архитектури

| Архитектура | Големина на пакета | Големина след инсталиране | Файлове |
| --- | --- | --- | --- |
| mips | 4 065,5 кБ | 12 047,0 кБ | [списък на файловете] |