Пакет: gamine (1.1-2)
Връзки за gamine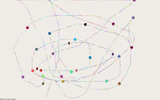 Ресурси за Debian:
Изтегляне на пакет-източник gamine.
Отговорници:
Външни препратки:
Подобни пакети:
an interactive game for young children
Gamine is a game designed for 2 years old children who are not able to use a keyboard.
The child uses the mouse to draw coloured dots and lines on the screen.
Други пакети, свързани с gamine