Пакет: vfu (4.10-1.1)
Връзки за vfu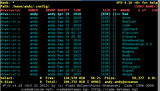 Ресурси за Debian:
Изтегляне на пакет-източник vfu.
Отговорник:
Външни препратки:
Подобни пакети:
A versatile text-based filemanager
vfu is a nice filemanager using the ncurses library. It has many nice features:

 * Fast one-key commands
 * Filename completion and wildcard expansion
 * Directory tree with sizes
 * File-type colorization
 * Archives support (TAR, TGZ, BZ2, and many more)
 * FTP support through archive-like interface
 * Internal text/hex file viewer and hex editor
 * Automount feature
 * Extensive user-defined external support/utils!

Други пакети, свързани с vfu