Пакет: lxmusic (0.4.4+git20100802-3)
Връзки за lxmusic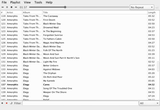 Ресурси за Debian:
Изтегляне на пакет-източник lxmusic.
Отговорник:
Външни препратки:
Подобни пакети:
minimalist music player for LXDE
This is based on xmms2, which is lightweight and has server/client design. The user interface is quite simple, clean, and intuitive. At first glance, it looks similar to one of the famous players on Windows - foobar 2000.
Други пакети, свързани с lxmusic
Изтегляне на lxmusic
Изтегляне за всички налични архитектури

| Архитектура | Големина на пакета | Големина след инсталиране | Файлове |
| --- | --- | --- | --- |
| armel | 114,9 кБ | 809,0 кБ | [списък на файловете] |