Пакет: winetricks (0.0+20170101-1) [contrib]
Връзки за winetricks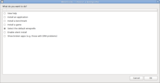 Ресурси за Debian:
Изтегляне на пакет-източник winetricks.
Отговорници:
Външни препратки:
Подобни пакети:
package manager for Wine to install software easily
A POSIX shell script 'package manager' for Wine to install some Windows software easily. The list contains about 70 applications including 3dmark2001, corefonts, cygwin, directx9, dotnet35, droid, firefox, flash, ie8, mspaint, msxml6, python26, quicktime76, safari, spotify, utorrent, vb6run, vcrun2010, vlc, xvid etc.
Други пакети, свързани с winetricks
rec:

xdg-utils

desktop integration utilities from freedesktop.org

rec:

zenity

Display graphical dialog boxes from shell scripts

или kdebase-bin

Transitional package for new kde-baseapps
Изтегляне на winetricks
Изтегляне за всички налични архитектури

| Архитектура | Големина на пакета | Големина след инсталиране | Файлове |
| --- | --- | --- | --- |
| all | 219,4 кБ | 811,0 кБ | [списък на файловете] |