Пакет: notify-osd (0.9.35+15.04.20150126-1 и други)
Връзки за notify-osd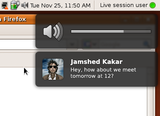 Ресурси за Debian:
Изтегляне на пакет-източник notify-osd.
Отговорници:
Външни препратки:
Подобни пакети:
daemon that displays passive pop-up notifications
The Desktop Notifications framework provides a standard way of doing passive pop-up notifications on the Linux desktop. These are designed to notify the user of something without interrupting their work with a dialog box that they must close. Passive popups can automatically disappear after a short period of time.
Други пакети, свързани с notify-osd
Изтегляне на notify-osd
Изтегляне за всички налични архитектури

| Архитектура | Версия | Големина на пакета | Големина след инсталиране | Файлове |
| --- | --- | --- | --- | --- |
| amd64 | 0.9.35+15.04.20150126-1+b1 | 143,5 кБ | 784,0 кБ | [списък на файловете] |
| arm64 | 0.9.35+15.04.20150126-1+b1 | 130,1 кБ | 756,0 кБ | [списък на файловете] |
| armel | 0.9.35+15.04.20150126-1+b1 | 135,7 кБ | 758,0 кБ | [списък на файловете] |
| armhf | 0.9.35+15.04.20150126-1+b1 | 132,7 кБ | 710,0 кБ | [списък на файловете] |
| i386 | 0.9.35+15.04.20150126-1+b1 | 150,2 кБ | 806,0 кБ | [списък на файловете] |
| mips | 0.9.35+15.04.20150126-1+b1 | 135,9 кБ | 801,0 кБ | [списък на файловете] |
| mips64el | 0.9.35+15.04.20150126-1+b1 | 134,4 кБ | 809,0 кБ | [списък на файловете] |
| mipsel | 0.9.35+15.04.20150126-1+b1 | 137,0 кБ | 801,0 кБ | [списък на файловете] |
| ppc64el | 0.9.35+15.04.20150126-1+b1 | 137,0 кБ | 836,0 кБ | [списък на файловете] |
| s390x | 0.9.35+15.04.20150126-1+b1 | 138,9 кБ | 808,0 кБ | [списък на файловете] |