Пакет: voxbo (1.8.5~svn1246-2 и други)
Връзки за voxbo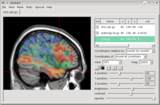 Ресурси за Debian:
Изтегляне на пакет-източник voxbo.
Отговорници:
Външни препратки:
Подобни пакети:
processing, statistical analysis, and display of brain imaging data
This is a toolkit for analysis of functional neuroimaging (chiefly fMRI) experiments and voxel-based lesion-behavior mapping. VoxBo supports the modified GLM (for autocorrelated data), as well as the standard GLM for non-autocorrelated data. The toolkit is designed to be interoperable with AFNI, FSL, SPM and others.
Други пакети, свързани с voxbo
sug:

matlab-spm8

Пакетът не е наличен

sug:

mni-colin27-nifti

Пакетът не е наличен
Изтегляне на voxbo
Изтегляне за всички налични архитектури

| Архитектура | Версия | Големина на пакета | Големина след инсталиране | Файлове |
| --- | --- | --- | --- | --- |
| i386 | 1.8.5~svn1246-2+b3 | 2 971,3 кБ | 21 203,0 кБ | [списък на файловете] |