Пакет: bashburn (3.0.1-2)
Връзки за bashburn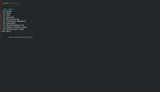 Ресурси за Debian:
Изтегляне на пакет-източник bashburn.
Отговорник:
Външни препратки:
Подобни пакети:
simplify cd/dvd burning at the command line
Bashburn is a tool written in Bash to simplify dvd/cd burning and ripping at the command line, BashBurn can also manipulate ISO images. BashBurn handles burning of multiple image formats, including ISO, bin/cue and nrg.
Други пакети, свързани с bashburn
Изтегляне на bashburn
Изтегляне за всички налични архитектури

| Архитектура | Големина на пакета | Големина след инсталиране | Файлове |
| --- | --- | --- | --- |
| all | 101,6 кБ | 330,0 кБ | [списък на файловете] |