Пакет: pekwm (0.1.17-3)
Връзки за pekwm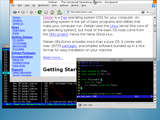 Ресурси за Debian:
Изтегляне на пакет-източник pekwm.
Отговорник:
Външни препратки:
Подобни пакети:
very light window manager
The Pek Window Manager is written by Claes Nästen, the code is based on the aewm++ window manager, but it has evolved enough that it no longer resembles aewm++ at all. It has a much expanded feature-set, including window grouping (similar to ion, pwm, or fluxbox), autoproperties, xinerama, keygrabber that supports keychains, and much more.
Други пакети, свързани с pekwm
sug:

zenity

Display graphical dialog boxes from shell scripts
Изтегляне на pekwm
Изтегляне за всички налични архитектури

| Архитектура | Големина на пакета | Големина след инсталиране | Файлове |
| --- | --- | --- | --- |
| armhf | 278,3 кБ | 629,0 кБ | [списък на файловете] |