Пакет: isenkram-cli (0.33)
Връзки за isenkram-cli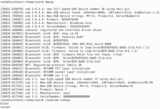 Ресурси за Debian:
Изтегляне на пакет-източник isenkram.
Отговорник:
Подобни пакети:
Suggest packages to install when inserting new hardware (CLI tool)
Command line interface tools to try to figure out which packages to install to use the available hardware devices. This package also contain the data files mapping hardware to packages.
Други пакети, свързани с isenkram-cli
Изтегляне на isenkram-cli
Изтегляне за всички налични архитектури

| Архитектура | Големина на пакета | Големина след инсталиране | Файлове |
| --- | --- | --- | --- |
| all | 28,8 кБ | 2 810,0 кБ | [списък на файловете] |