Пакет: apt-file (3.1.4)
Връзки за apt-file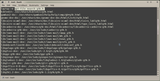 Ресурси за Debian:
Изтегляне на пакет-източник apt-file.
Отговорници:
Подобни пакети:
search for files within Debian packages (command-line interface)
apt-file is a command line tool for searching files contained in packages for the APT packaging system. You can search in which package a file is included or list the contents of a package without installing or fetching it.
Други пакети, свързани с apt-file
Изтегляне на apt-file
Изтегляне за всички налични архитектури

| Архитектура | Големина на пакета | Големина след инсталиране | Файлове |
| --- | --- | --- | --- |
| all | 34,4 кБ | 82,0 кБ | [списък на файловете] |