Пакет: apt-dater (1.0.3-4)
Връзки за apt-dater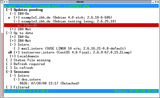 Ресурси за Debian:
Изтегляне на пакет-източник apt-dater.
Отговорник:
Външни препратки:
Подобни пакети:
terminal-based remote package update manager
apt-dater provides an easy to use ncurses frontend for managing package updates on a large number of remote hosts using SSH and apt-dater-host. It supports Debian-based managed hosts as well as openSUSE and CentOS based systems.
Други пакети, свързани с apt-dater
Изтегляне на apt-dater
Изтегляне за всички налични архитектури

| Архитектура | Големина на пакета | Големина след инсталиране | Файлове |
| --- | --- | --- | --- |
| amd64 | 78,8 кБ | 270,0 кБ | [списък на файловете] |
| arm64 | 71,8 кБ | 266,0 кБ | [списък на файловете] |
| armel | 73,2 кБ | 257,0 кБ | [списък на файловете] |
| armhf | 73,8 кБ | 233,0 кБ | [списък на файловете] |
| i386 | 83,1 кБ | 281,0 кБ | [списък на файловете] |
| mips | 76,1 кБ | 284,0 кБ | [списък на файловете] |
| mips64el | 76,8 кБ | 291,0 кБ | [списък на файловете] |
| mipsel | 76,7 кБ | 284,0 кБ | [списък на файловете] |
| ppc64el | 75,1 кБ | 350,0 кБ | [списък на файловете] |
| s390x | 77,1 кБ | 290,0 кБ | [списък на файловете] |