Пакет: bitpim (1.0.7+dfsg1-2)
Връзки за bitpim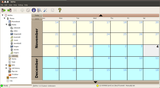 Ресурси за Debian:
Изтегляне на пакет-източник bitpim.
Отговорник:
Външни препратки:
Подобни пакети:
utility to communicate with many CDMA phones
BitPim allows you to view and manipulate data on many phones from LG, Samsung, Sanyo, and other manufacturers that use Qualcomm CDMA chips. Depending on your phone model, you may be able to access the phone book, the calendar, wallpapers, ring tones, and the filesystem.
Други пакети, свързани с bitpim
rec:

netpbm

Graphics conversion tools between image formats
Изтегляне на bitpim
Изтегляне за всички налични архитектури

| Архитектура | Големина на пакета | Големина след инсталиране | Файлове |
| --- | --- | --- | --- |
| all | 4 746,4 кБ | 17 964,0 кБ | [списък на файловете] |