[ squeeze ]
Пакет: klamav (0.46-3 и други)
Връзки за klamav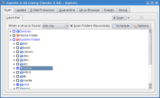 Ресурси за Debian:
Изтегляне на пакет-източник klamav.
Отговорник:
Външни препратки:
Подобни пакети:
KDE frontend for ClamAV
KlamAV is an anti-virus manager for the KDE desktop that allows you to manage your virus-scanning, scheduling, virus research and software/database updates.
KlamAV features manual scanning, quarantine management, virus browser, mail scanning (KMail and Evolution) and scan scheduler.
Други пакети, свързани с klamav
Изтегляне на klamav
Изтегляне за всички налични архитектури

| Архитектура | Версия | Големина на пакета | Големина след инсталиране | Файлове |
| --- | --- | --- | --- | --- |
| amd64 | 0.46-3+b1 | 910,1 кБ | 2 416,0 кБ | [списък на файловете] |
| armel | 0.46-3+b1 | 853,7 кБ | 2 448,0 кБ | [списък на файловете] |
| i386 | 0.46-3+b1 | 887,6 кБ | 2 588,0 кБ | [списък на файловете] |
| ia64 | 0.46-3+b1 | 1 118,2 кБ | 4 528,0 кБ | [списък на файловете] |
| kfreebsd-amd64 | 0.46-3+b1 | 910,3 кБ | 2 492,0 кБ | [списък на файловете] |
| kfreebsd-i386 | 0.46-3+b1 | 881,9 кБ | 2 424,0 кБ | [списък на файловете] |
| mips | 0.46-3+b1 | 867,4 кБ | 3 120,0 кБ | [списък на файловете] |
| mipsel | 0.46-3+b1 | 859,4 кБ | 3 120,0 кБ | [списък на файловете] |
| powerpc | 0.46-3+b1 | 911,1 кБ | 2 656,0 кБ | [списък на файловете] |
| s390 | 0.46-3+b1 | 873,6 кБ | 2 592,0 кБ | [списък на файловете] |
| sparc | 0.46-3+b1 | 885,0 кБ | 2 600,0 кБ | [списък на файловете] |