Пакет: kcalc (4:4.4.5-1+squeeze1)
Връзки за kcalc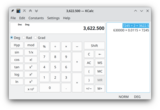 Ресурси за Debian:
Изтегляне на пакет-източник kdeutils.
Отговорници:
Външни препратки:
Подобни пакети:
simple and scientific calculator
KCalc is a scientific calculator.
KCalc provides:

 * Trigonometric functions, logic operations, and statistical calculations
 * Calculation in decimal, hexadecimal, octal, and binary bases
 * Memory functions for storing results
 * A comprehensive collection of mathematical constants

This package is part of the KDE utilities module.
Други пакети, свързани с kcalc
Изтегляне на kcalc
Изтегляне за всички налични архитектури

| Архитектура | Големина на пакета | Големина след инсталиране | Файлове |
| --- | --- | --- | --- |
| amd64 | 156,2 кБ | 560,0 кБ | [списък на файловете] |
| armel | 148,1 кБ | 520,0 кБ | [списък на файловете] |
| i386 | 149,5 кБ | 532,0 кБ | [списък на файловете] |
| ia64 | 218,9 кБ | 1 044,0 кБ | [списък на файловете] |
| kfreebsd-amd64 | 196,6 кБ | 604,0 кБ | [списък на файловете] |
| kfreebsd-i386 | 196,8 кБ | 602,0 кБ | [списък на файловете] |
| mips | 138,6 кБ | 644,0 кБ | [списък на файловете] |
| mipsel | 137,0 кБ | 644,0 кБ | [списък на файловете] |
| powerpc | 151,6 кБ | 548,0 кБ | [списък на файловете] |
| s390 | 151,5 кБ | 584,0 кБ | [списък на файловете] |
| sparc | 157,5 кБ | 532,0 кБ | [списък на файловете] |