Пакет: xfce4-terminal (0.8.7.4-2)
Връзки за xfce4-terminal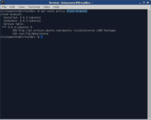 Ресурси за Debian:
Изтегляне на пакет-източник xfce4-terminal.
Отговорници:
Външни препратки:
Подобни пакети:
Xfce terminal emulator
This package contains Terminal, which is a lightweight and easy to use terminal emulator for X11. It was created to fit nicely into the Xfce desktop environment, but it also fits nice with other environments.
Други пакети, свързани с xfce4-terminal
Изтегляне на xfce4-terminal
Изтегляне за всички налични архитектури

| Архитектура | Големина на пакета | Големина след инсталиране | Файлове |
| --- | --- | --- | --- |
| alpha (неофициална архитектура) | 540,3 кБ | 2 293,0 кБ | [списък на файловете] |
| amd64 | 538,8 кБ | 2 239,0 кБ | [списък на файловете] |
| arm64 | 533,7 кБ | 2 239,0 кБ | [списък на файловете] |
| armel | 527,7 кБ | 2 194,0 кБ | [списък на файловете] |
| armhf | 528,5 кБ | 2 158,0 кБ | [списък на файловете] |
| hppa (неофициална архитектура) | 534,2 кБ | 2 217,0 кБ | [списък на файловете] |
| hurd-i386 | 546,4 кБ | 2 250,0 кБ | [списък на файловете] |
| i386 | 547,6 кБ | 2 261,0 кБ | [списък на файловете] |
| kfreebsd-amd64 | 538,8 кБ | 2 239,0 кБ | [списък на файловете] |
| kfreebsd-i386 | 547,0 кБ | 2 254,0 кБ | [списък на файловете] |
| m68k (неофициална архитектура) | 536,5 кБ | 2 230,0 кБ | [списък на файловете] |
| mips | 532,1 кБ | 2 256,0 кБ | [списък на файловете] |
| mips64el | 531,4 кБ | 2 264,0 кБ | [списък на файловете] |
| mipsel | 533,5 кБ | 2 256,0 кБ | [списък на файловете] |
| powerpcspe (неофициална архитектура) | 530,7 кБ | 2 270,0 кБ | [списък на файловете] |
| ppc64 (неофициална архитектура) | 543,4 кБ | 2 335,0 кБ | [списък на файловете] |
| ppc64el | 544,0 кБ | 2 335,0 кБ | [списък на файловете] |
| riscv64 (неофициална архитектура) | 528,4 кБ | 2 197,0 кБ | [списък на файловете] |
| s390x | 534,2 кБ | 2 259,0 кБ | [списък на файловете] |
| sh4 (неофициална архитектура) | 547,0 кБ | 2 217,0 кБ | [списък на файловете] |
| sparc64 (неофициална архитектура) | 526,9 кБ | 2 244,0 кБ | [списък на файловете] |
| x32 (неофициална архитектура) | 539,7 кБ | 2 218,0 кБ | [списък на файловете] |