Пакет: tt-rss (18.12+dfsg-1.1)
Връзки за tt-rss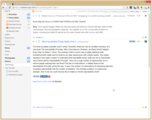 Ресурси за Debian:
Изтегляне на пакет-източник tt-rss.
Отговорници:
Външни препратки:
Подобни пакети:
Tiny Tiny RSS - web-based news feed (RSS/Atom) aggregator
Tiny Tiny RSS is designed to allow you to read news from any location, while feeling as close to a real desktop application as possible.
Feature list:

 * server-side application - user only needs a web browser;
 * support for RSS, RDF, Atom feeds;
 * streamlined interface using AJAX;
 * authentication for reading protected feeds;
 * OPML import/export;
 * feed aggregation;
 * keyboard shortcuts;
 * content filtering;
 * JSON-based RPC API.

Други пакети, свързани с tt-rss
Изтегляне на tt-rss
Изтегляне за всички налични архитектури

| Архитектура | Големина на пакета | Големина след инсталиране | Файлове |
| --- | --- | --- | --- |
| all | 813,1 кБ | 6 528,0 кБ | [списък на файловете] |