Пакет: tarantool (1.9.1.26.g63eb81e3c-1.1)
Връзки за tarantool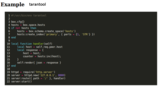 Ресурси за Debian:
Изтегляне на пакет-източник tarantool.
Отговорници:
Външни препратки:
Подобни пакети:
In-memory database with a Lua application server
Tarantool is an in-memory database and a Lua application server. Its key properties include:

 * flexible data model
 * multiple index types: HASH, TREE, BITSET
 * optional persistence and strong data durability
 * log streaming replication
 * Lua functions, procedures, triggers, with rich access to database API,
   JSON support, inter-procedure and network communication libraries

This package provides Tarantool command line interpreter and server.
Други пакети, свързани с tarantool