Пакет: ssh-askpass-gnome (1:7.8p1-1)
Връзки за ssh-askpass-gnome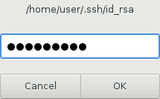 Ресурси за Debian:
Изтегляне на пакет-източник openssh.
Отговорници:
Външни препратки:
Подобни пакети:
interactive X program to prompt users for a passphrase for ssh-add
This has been split out of the main openssh-client package so that openssh-client does not need to depend on GTK+.
You probably want the ssh-askpass package instead, but this is provided to add to your choice and/or confusion.
Други пакети, свързани с ssh-askpass-gnome
Изтегляне на ssh-askpass-gnome
Изтегляне за всички налични архитектури

| Архитектура | Големина на пакета | Големина след инсталиране | Файлове |
| --- | --- | --- | --- |
| alpha (неофициална архитектура) | 207,1 кБ | 245,0 кБ | [списък на файловете] |
| amd64 | 207,0 кБ | 244,0 кБ | [списък на файловете] |
| arm64 | 206,8 кБ | 240,0 кБ | [списък на файловете] |
| armel | 206,5 кБ | 236,0 кБ | [списък на файловете] |
| armhf | 206,5 кБ | 236,0 кБ | [списък на файловете] |
| hppa (неофициална архитектура) | 207,3 кБ | 237,0 кБ | [списък на файловете] |
| hurd-i386 | 207,0 кБ | 236,0 кБ | [списък на файловете] |
| i386 | 207,2 кБ | 240,0 кБ | [списък на файловете] |
| kfreebsd-amd64 | 207,0 кБ | 240,0 кБ | [списък на файловете] |
| kfreebsd-i386 | 207,1 кБ | 236,0 кБ | [списък на файловете] |
| m68k (неофициална архитектура) | 206,9 кБ | 244,0 кБ | [списък на файловете] |
| mips | 206,7 кБ | 236,0 кБ | [списък на файловете] |
| mips64el | 206,9 кБ | 241,0 кБ | [списък на файловете] |
| mipsel | 206,8 кБ | 236,0 кБ | [списък на файловете] |
| powerpcspe (неофициална архитектура) | 206,7 кБ | 292,0 кБ | [списък на файловете] |
| ppc64 (неофициална архитектура) | 207,3 кБ | 293,0 кБ | [списък на файловете] |
| ppc64el | 207,1 кБ | 293,0 кБ | [списък на файловете] |
| s390x | 207,0 кБ | 240,0 кБ | [списък на файловете] |
| sh4 (неофициална архитектура) | 206,9 кБ | 236,0 кБ | [списък на файловете] |
| sparc64 (неофициална архитектура) | 206,6 кБ | 246,0 кБ | [списък на файловете] |
| x32 (неофициална архитектура) | 207,0 кБ | 240,0 кБ | [списък на файловете] |