Пакет: sqsh (2.5.16.1-2 и други)
Връзки за sqsh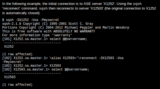 Ресурси за Debian:
Изтегляне на пакет-източник sqsh.
Отговорник:
Външни препратки:
Подобни пакети:
commandline SQL client for MS SQL and Sybase servers
sqsh is a flexible commandline utility that uses the freetds libraries to connect to Sybase or Microsoft SQL servers. It is a useful debugging tool for identifying problems with other SQL applications, and it can be used as a productivity tool in its own right: unlike most SQL CLIs, sqsh's interactive shell lets you pipe the output of SQL queries directly to other Unix commands for further processing.
Други пакети, свързани с sqsh
Изтегляне на sqsh
Изтегляне за всички налични архитектури

| Архитектура | Версия | Големина на пакета | Големина след инсталиране | Файлове |
| --- | --- | --- | --- | --- |
| alpha (неофициална архитектура) | 2.5.16.1-2+b1 | 178,8 кБ | 412,0 кБ | [списък на файловете] |
| amd64 | 2.5.16.1-2+b1 | 182,0 кБ | 396,0 кБ | [списък на файловете] |
| arm64 | 2.5.16.1-2+b1 | 174,1 кБ | 371,0 кБ | [списък на файловете] |
| armel | 2.5.16.1-2+b1 | 166,5 кБ | 334,0 кБ | [списък на файловете] |
| armhf | 2.5.16.1-2+b1 | 167,5 кБ | 274,0 кБ | [списък на файловете] |
| hppa (неофициална архитектура) | 2.5.16.1-2+b1 | 168,6 кБ | 355,0 кБ | [списък на файловете] |
| i386 | 2.5.16.1-2+b1 | 188,7 кБ | 398,0 кБ | [списък на файловете] |
| m68k (неофициална архитектура) | 2.5.16.1-2+b1 | 150,9 кБ | 306,0 кБ | [списък на файловете] |
| mips64el | 2.5.16.1-2+b1 | 173,4 кБ | 426,0 кБ | [списък на файловете] |
| mipsel | 2.5.16.1-2+b1 | 172,0 кБ | 388,0 кБ | [списък на файловете] |
| powerpcspe (неофициална архитектура) | 2.5.16.1-2 | 161,8 кБ | 353,0 кБ | [списък на файловете] |
| ppc64 (неофициална архитектура) | 2.5.16.1-2+b1 | 184,7 кБ | 486,0 кБ | [списък на файловете] |
| ppc64el | 2.5.16.1-2+b1 | 190,2 кБ | 484,0 кБ | [списък на файловете] |
| riscv64 (неофициална архитектура) | 2.5.16.1-2+b1 | 170,8 кБ | 312,0 кБ | [списък на файловете] |
| s390x | 2.5.16.1-2+b1 | 172,5 кБ | 391,0 кБ | [списък на файловете] |
| sh4 (неофициална архитектура) | 2.5.16.1-2+b1 | 173,8 кБ | 290,0 кБ | [списък на файловете] |
| sparc64 (неофициална архитектура) | 2.5.16.1-2+b1 | 165,5 кБ | 384,0 кБ | [списък на файловете] |
| x32 (неофициална архитектура) | 2.5.16.1-2+b1 | 176,8 кБ | 359,0 кБ | [списък на файловете] |