Пакет: ovito (2.9.0+dfsg1-5 и други)
Връзки за ovito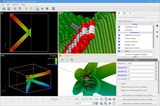 Ресурси за Debian:
Изтегляне на пакет-източник ovito.
Отговорник:
Външни препратки:
Подобни пакети:
visualization and analysis tool for atomistic simulation data
OVITO is a visualization and analysis software for atomistic simulation data. Being a single integrated application it covers both the analysis and the visualization of large-scale atomistic datasets produced by molecular dynamics/statics and Monte-Carlo simulation codes. Its name is an acronym for Open Visualization Tool, emphasizing that the software has been designed with flexibility and extensibility in mind.
Други пакети, свързани с ovito
dep:

libavcodec57 (>= 7:3.0) [alpha]

Пакетът не е наличен

или libavcodec-extra57 (>= 7:3.0)

Пакетът не е наличен

dep:

libavcodec57 (>= 7:3.2.1) [hppa, ppc64, sparc64]

или libavcodec-extra57 (>= 7:3.2.1)

dep:

libavcodec57 (>= 7:3.4) [не alpha, hppa, ppc64, sh4, sparc64, x32]

или libavcodec-extra57 (>= 7:3.4)

dep:

libavdevice57 (>= 7:3.0) [alpha]

Пакетът не е наличен

dep:

libavdevice57 (>= 7:3.2.1) [hppa, ppc64, sparc64]

dep:

libavfilter6 (>= 7:3.4) [не alpha, hppa, ppc64, sh4, sparc64, x32]

Пакетът не е наличен

или libavfilter-extra6 (>= 7:3.4)

Пакетът не е наличен

dep:

libavformat57 (>= 7:3.0) [alpha]

Пакетът не е наличен

dep:

libavformat57 (>= 7:3.2.1) [hppa, ppc64, sparc64]

dep:

libavformat57 (>= 7:3.4) [не alpha, hppa, ppc64, sh4, sparc64, x32]

dep:

libavresample3 (>= 7:3.4) [не alpha, hppa, ppc64, sh4, sparc64, x32]

Пакетът не е наличен

dep:

libavutil55 (>= 7:3.0) [alpha]

Пакетът не е наличен

dep:

libavutil55 (>= 7:3.2.1) [hppa, ppc64, sparc64]

dep:

libavutil55 (>= 7:3.4) [не alpha, hppa, ppc64, sh4, sparc64, x32]

dep:

libboost-atomic1.61.0 [alpha]

Пакетът не е наличен

dep:

libboost-chrono1.61.0 [alpha]

Пакетът не е наличен

dep:

libboost-date-time1.61.0 [alpha]

Пакетът не е наличен

dep:

libboost-iostreams1.49.0 (>= 1.49.0-1) [x32]

Пакетът не е наличен

dep:

libboost-iostreams1.54.0 [sh4]

Boost.Iostreams Library

dep:

libboost-python1.49.0 (>= 1.49.0-1) [x32]

Пакетът не е наличен

dep:

libboost-python1.54.0 [sh4]

Boost.Python Library

dep:

libboost-system1.61.0 [alpha]

Пакетът не е наличен

dep:

libboost-thread1.61.0 [alpha]

Пакетът не е наличен

dep:

libbotan-1.10-1 (>= 1.10.10) [hppa, i386, mips, mipsel]

Пакетът не е наличен

dep:

libbotan-1.10-1 (>= 1.10.12) [alpha, amd64, arm64, mips64el, ppc64, ppc64el, s390x]

dep:

libbotan-1.10-1 (>= 1.10.13-1) [sparc64]

dep:

libc6.1 (>= 2.11) [alpha]

GNU C Library: Shared libraries
също и виртуален пакет, предлаган от libc6.1-udeb

dep:

libcgal11v5 [alpha]

C++ library for computational geometry

dep:

libcgal12 [hppa, ppc64, sparc64]

Пакетът не е наличен

dep:

libfftw3-single3 (>= 3.3.5) [не alpha, hppa, ppc64, sh4, sparc64, x32]

Library for computing Fast Fourier Transforms - Single precision

dep:

libgcc1 [x32]

GCC support library

dep:

libgcc1 (>= 1:3.4) [alpha, sparc64]

dep:

libgcc1 (>= 1:3.4.4) [ppc64]

dep:

libgcc1 (>= 1:4.0) [amd64, arm64, mips64el, ppc64el, s390x]

dep:

libgcc1 (>= 1:4.1.1) [sh4]

dep:

libgcc1 (>= 1:4.2) [i386, mips, mipsel]

dep:

libgcc4 (>= 4.1.1) [hppa]

GCC support library

dep:

libgl1 [не alpha, hppa, ppc64, sh4, sparc64, x32]

Vendor neutral GL dispatch library -- legacy GL support
също и виртуален пакет, предлаган от libgl1-mesa-glx, libgl1-mesa-swx11

dep:

libgl1-mesa-glx [alpha, hppa, ppc64, sh4, sparc64, x32]

transitional dummy package

или libgl1

Vendor neutral GL dispatch library -- legacy GL support
също и виртуален пакет, предлаган от libgl1-mesa-glx, libgl1-mesa-swx11

dep:

libglu1-mesa [sh4, x32]

Mesa OpenGL utility library (GLU)

или libglu1

виртуален пакет, предлаган от libglu1-mesa

dep:

libgmp10 [alpha, hppa, ppc64, sparc64]

Multiprecision arithmetic library

dep:

libgsl0ldbl (>= 1.9) [sh4, x32]

GNU Scientific Library (GSL) -- library package

dep:

libhdf5-10 [alpha]

Пакетът не е наличен

dep:

libhdf5-100 [hppa, ppc64, sparc64]

Hierarchical Data Format 5 (HDF5) - runtime files - serial version

dep:

libmpfr4 (>= 3.1.3) [alpha, hppa, ppc64, sparc64]

multiple precision floating-point computation

dep:

libmuparser2 (>= 2.1.0) [sh4, x32]

fast mathematical expressions parser library (runtime)

dep:

libmuparser2v5 (>= 2.2.3) [не sh4, x32]

fast mathematical expressions parser library (runtime)

dep:

libnetcdf11 (>= 3.6.1) [alpha, hppa, ppc64, sparc64]

Пакетът не е наличен

dep:

libnetcdf13 (>= 4.0.1) [не alpha, hppa, ppc64, sh4, sparc64, x32]

Interface for scientific data access to large binary data

dep:

libpython2.7 (>= 2.7) [sh4, x32]

Shared Python runtime library (version 2.7)

dep:

libpython3.6 (>= 3.6.0~b2) [не alpha, hppa, ppc64, sh4, sparc64, x32]

Пакетът не е наличен

dep:

libqcustomplot1.3 [alpha, hppa, ppc64, sparc64]

Пакетът не е наличен

dep:

libqt4-network (>= 4:4.5.3) [sh4, x32]

Qt 4 network module

dep:

libqt4-opengl (>= 4:4.5.3) [sh4, x32]

Qt 4 OpenGL module

dep:

libqt4-xml (>= 4:4.5.3) [sh4, x32]

Qt 4 XML module

dep:

libqt5concurrent5 (>= 5.6.0~rc) [не sh4, x32]

Qt 5 concurrent module

dep:

libqt5core5a (>= 5.6.0~beta) [alpha]

Qt 5 core module

dep:

libqt5core5a (>= 5.7.0) [hppa, ppc64, sparc64]

dep:

libqt5core5a (>= 5.8.0) [arm64, mips, mips64el, mipsel, ppc64el, s390x]

dep:

libqt5core5a (>= 5.9.0~beta) [amd64, i386]

dep:

libqt5gui5 (>= 5.3.0) [alpha, hppa, ppc64, sparc64]

Qt 5 GUI module

dep:

libqt5gui5 (>= 5.4.0) [не alpha, hppa, ppc64, sh4, sparc64, x32]

dep:

libqt5network5 (>= 5.0.2) [не sh4, x32]

Qt 5 network module

dep:

libqt5opengl5 (>= 5.0.2) [alpha, hppa, ppc64, sparc64]

Qt 5 OpenGL module

dep:

libqt5printsupport5 (>= 5.0.2) [alpha, hppa, ppc64, sparc64]

Qt 5 print support module

dep:

libqt5scintilla2-12v5 (>= 2.8.4) [не alpha, hppa, ppc64, sh4, sparc64, x32]

Qt5 port of the Scintilla source code editing widget

dep:

libqt5script5 (>= 5.6.0~beta) [alpha, hppa, ppc64, sparc64]

Qt 5 script module

dep:

libqt5widgets5 (>= 5.6.0~beta) [alpha]

Qt 5 widgets module

dep:

libqt5widgets5 (>= 5.7.0) [не alpha, sh4, x32]

dep:

libqt5xml5 (>= 5.0.2) [alpha, hppa, ppc64, sparc64]

Qt 5 XML module

dep:

libqtcore4 (>= 4:4.7.0~beta1) [x32]

Qt 4 core module

dep:

libqtcore4 (>= 4:4.8.5+dfsg-3) [sh4]

dep:

libqtgui4 (>= 4:4.5.3) [sh4, x32]

Qt 4 GUI module

dep:

libqwt-qt5-6 (>= 6.1.2) [не alpha, hppa, ppc64, sh4, sparc64, x32]

Qt widgets library for technical applications (runtime, qt5)

dep:

libstdc++6 [x32]

GNU Standard C++ Library v3

dep:

libstdc++6 (>= 4.6) [sh4]

dep:

libstdc++6 (>= 6) [alpha, hppa, ppc64, sparc64]

dep:

libstdc++6 (>= 7) [не alpha, hppa, ppc64, sh4, sparc64, x32]

dep:

libswscale4 (>= 7:3.0) [alpha]

Пакетът не е наличен

dep:

libswscale4 (>= 7:3.2.1) [hppa, ppc64, sparc64]

dep:

libswscale4 (>= 7:3.4) [не alpha, hppa, ppc64, sh4, sparc64, x32]

dep:

libsz2 [alpha, hppa, ppc64, sparc64]

Adaptive Entropy Coding library - SZIP

dep:

libtachyon-0.99 [sh4, x32]

Parallel/Multiprocessor Ray Tracing Software, shared library

dep:

python

interactive high-level object-oriented language (Python2 version)

dep:

zlib1g (>= 1:1.1.4) [не sh4, x32]

compression library - runtime
sug:

povray

Persistence of vision raytracer (3D renderer)
Изтегляне на ovito
Изтегляне за всички налични архитектури

| Архитектура | Версия | Големина на пакета | Големина след инсталиране | Файлове |
| --- | --- | --- | --- | --- |
| alpha (неофициална архитектура) | 2.3.3+dfsg1-2+b3 | 1 722,6 кБ | 8 334,0 кБ | [списък на файловете] |
| amd64 | 2.9.0+dfsg1-5 | 3 685,4 кБ | 18 291,0 кБ | [списък на файловете] |
| arm64 | 2.9.0+dfsg1-5 | 3 048,5 кБ | 16 486,0 кБ | [списък на файловете] |
| hppa (неофициална архитектура) | 2.3.3+dfsg1-2+b5 | 1 774,7 кБ | 7 816,0 кБ | [списък на файловете] |
| i386 | 2.9.0+dfsg1-5 | 3 811,6 кБ | 18 190,0 кБ | [списък на файловете] |
| mips | 2.9.0+dfsg1-5 | 3 065,0 кБ | 20 626,0 кБ | [списък на файловете] |
| mips64el | 2.9.0+dfsg1-5 | 3 156,1 кБ | 22 086,0 кБ | [списък на файловете] |
| mipsel | 2.9.0+dfsg1-5 | 3 146,8 кБ | 20 678,0 кБ | [списък на файловете] |
| ppc64 (неофициална архитектура) | 2.3.3+dfsg1-2+b6 | 1 668,5 кБ | 9 303,0 кБ | [списък на файловете] |
| ppc64el | 2.9.0+dfsg1-5 | 3 314,9 кБ | 21 005,0 кБ | [списък на файловете] |
| s390x | 2.9.0+dfsg1-5 | 3 010,4 кБ | 18 239,0 кБ | [списък на файловете] |
| sh4 (неофициална архитектура) | 0.9.5-3 | 3 511,8 кБ | 11 810,0 кБ | [списък на файловете] |
| sparc64 (неофициална архитектура) | 2.3.3+dfsg1-2+b6 | 1 456,5 кБ | 7 316,0 кБ | [списък на файловете] |
| x32 (неофициална архитектура) | 0.9.5-2 | 4 081,4 кБ | 10 805,0 кБ | [списък на файловете] |