Пакет: njplot (2.4-8)
Връзки за njplot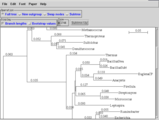 Ресурси за Debian:
Изтегляне на пакет-източник njplot.
Отговорници:
Външни препратки:
Подобни пакети:
phylogenetic tree drawing program
NJplot is able to draw any dendrogram expressed in the Newick standard phylogenetic tree format (e.g., the format used by the Phylip package). NJplot is especially convenient for rooting the unrooted trees obtained from parsimony, distance or maximum likelihood tree-building methods.
Други пакети, свързани с njplot
Изтегляне на njplot
Изтегляне за всички налични архитектури

| Архитектура | Големина на пакета | Големина след инсталиране | Файлове |
| --- | --- | --- | --- |
| alpha (неофициална архитектура) | 95,9 кБ | 335,0 кБ | [списък на файловете] |
| amd64 | 94,6 кБ | 325,0 кБ | [списък на файловете] |
| arm64 | 88,4 кБ | 285,0 кБ | [списък на файловете] |
| armel | 89,2 кБ | 281,0 кБ | [списък на файловете] |
| armhf | 85,7 кБ | 205,0 кБ | [списък на файловете] |
| hppa (неофициална архитектура) | 89,0 кБ | 346,0 кБ | [списък на файловете] |
| hurd-i386 | 96,0 кБ | 261,0 кБ | [списък на файловете] |
| i386 | 96,1 кБ | 277,0 кБ | [списък на файловете] |
| kfreebsd-amd64 | 94,4 кБ | 273,0 кБ | [списък на файловете] |
| kfreebsd-i386 | 96,0 кБ | 261,0 кБ | [списък на файловете] |
| m68k (неофициална архитектура) | 88,6 кБ | 281,0 кБ | [списък на файловете] |
| mips | 92,2 кБ | 307,0 кБ | [списък на файловете] |
| mips64el | 93,2 кБ | 321,0 кБ | [списък на файловете] |
| mipsel | 93,0 кБ | 307,0 кБ | [списък на файловете] |
| powerpcspe (неофициална архитектура) | 88,3 кБ | 337,0 кБ | [списък на файловете] |
| ppc64 (неофициална архитектура) | 95,4 кБ | 405,0 кБ | [списък на файловете] |
| ppc64el | 94,5 кБ | 405,0 кБ | [списък на файловете] |
| riscv64 (неофициална архитектура) | 90,1 кБ | 243,0 кБ | [списък на файловете] |
| s390x | 91,7 кБ | 305,0 кБ | [списък на файловете] |
| sh4 (неофициална архитектура) | 101,2 кБ | 279,0 кБ | [списък на файловете] |
| sparc64 (неофициална архитектура) | 85,2 кБ | 318,0 кБ | [списък на файловете] |
| x32 (неофициална архитектура) | 94,1 кБ | 313,0 кБ | [списък на файловете] |