Пакет: jalview (2.7.dfsg-5)
Връзки за jalview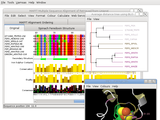 Ресурси за Debian:
Изтегляне на пакет-източник jalview.
Отговорници:
Външни препратки:
Подобни пакети:
multiple alignment editor
JalView is a Java alignment editor that can work with sequence alignment produced by programs implementing alignment algorithms such as clustalw, kalign and t-coffee.
It has lots of features, is actively developed, and will compare advantageously to BioEdit, while being free as in free speech !
Други пакети, свързани с jalview
Изтегляне на jalview
Изтегляне за всички налични архитектури

| Архитектура | Големина на пакета | Големина след инсталиране | Файлове |
| --- | --- | --- | --- |
| all | 3 313,0 кБ | 3 590,0 кБ | [списък на файловете] |