Пакет: ifrit (4.1.2-6 и други)
Връзки за ifrit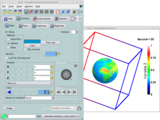 Ресурси за Debian:
Изтегляне на пакет-източник ifrit.
Отговорник:
Външни препратки:
Подобни пакети:
powerful tool for visualizing 3-dimensional data sets
IFRIT (the Ionization FRont Interactive Tool) has its origins (and hence name) in a specialized utility designed to visualize ionization fronts in cosmological numerical simulations. IFRIT, however, has outgrown its origins and now can visualize general data sets as well.
IFRIT is written in C++ and is based on two state-of-the-art toolkits: the Visualization ToolKit (VTK) and a GUI toolkit QT.
Други пакети, свързани с ifrit
dep:

libc6 (>= 2.27) [не alpha, powerpcspe, sparc64]

GNU C Library: Shared libraries
също и виртуален пакет, предлаган от libc6-udeb

dep:

libc6 (>= 2.4) [powerpcspe, sparc64]

dep:

libc6.1 (>= 2.27) [alpha]

GNU C Library: Shared libraries
също и виртуален пакет, предлаган от libc6.1-udeb

dep:

libexpat1 (>= 2.0.1)

XML parsing C library - runtime library

dep:

libfreetype6 (>= 2.2.1)

FreeType 2 font engine, shared library files

dep:

libgcc1 (>= 1:3.0) [не armel, armhf, hppa, m68k, sh4]

GCC support library

dep:

libgcc1 (>= 1:3.3.4) [sh4]

dep:

libgcc1 (>= 1:3.5) [armel, armhf]

dep:

libgcc2 (>= 4.2.1) [m68k]

GCC support library

dep:

libgcc4 (>= 4.1.1) [hppa]

GCC support library

dep:

libgl1

Vendor neutral GL dispatch library -- legacy GL support
също и виртуален пакет, предлаган от libgl1-mesa-glx, libgl1-mesa-swx11

dep:

libgl2ps1.4

Lib providing high quality vector output for OpenGL application

dep:

libglu1-mesa

Mesa OpenGL utility library (GLU)

или libglu1

виртуален пакет, предлаган от libglu1-mesa

dep:

libhdf5-mpich-100 (>= 1.8.13) [m68k, sh4]

Hierarchical Data Format 5 (HDF5) - runtime files - MPICH2 version

dep:

libhdf5-openmpi-100 (>= 1.8.13) [hppa, powerpcspe, ppc64, riscv64, sparc64, x32]

Hierarchical Data Format 5 (HDF5) - runtime files - OpenMPI version

dep:

libhdf5-openmpi-103 (>= 1.8.13) [не hppa, m68k, powerpcspe, ppc64, riscv64, sh4, sparc64, x32]

Hierarchical Data Format 5 (HDF5) - runtime files - OpenMPI version

dep:

libice6 (>= 1:1.0.0)

X11 Inter-Client Exchange library

dep:

libjpeg62-turbo (>= 1.3.1)

libjpeg-turbo JPEG runtime library

dep:

libjsoncpp1 (>= 1.7.4)

library for reading and writing JSON for C++

dep:

libmpich12 [m68k, sh4]

Shared libraries for MPICH

dep:

libnetcdf-c++4 (>= 4.2)

legacy NetCDF C++ interface

dep:

libnetcdf11 (>= 3.6.1) [sparc64]

Пакетът не е наличен

dep:

libnetcdf13 (>= 3.6.1) [не sparc64]

Interface for scientific data access to large binary data

dep:

libogg0 (>= 1.0rc3)

Ogg bitstream library

dep:

libopenmpi2 [hppa, powerpcspe, sparc64, x32]

Пакетът не е наличен

dep:

libopenmpi3 [не hppa, m68k, powerpcspe, sh4, sparc64, x32]

high performance message passing library -- shared library

dep:

libpng16-16 (>= 1.6.2-1)

PNG library - runtime (version 1.6)

dep:

libproj12 (>= 4.8.0) [powerpcspe, sparc64]

Cartographic projection library

dep:

libproj13 (>= 4.8.0) [не powerpcspe, sparc64]

Cartographic projection library

dep:

libpython2.7 (>= 2.7)

Shared Python runtime library (version 2.7)

dep:

libqt4-opengl (>= 4:4.5.3)

Qt 4 OpenGL module

dep:

libqt4-qt3support (>= 4:4.5.3)

Qt 3 compatibility library for Qt 4

dep:

libqtcore4 (>= 4:4.7.0~beta1) [не riscv64, sh4, sparc64]

Qt 4 core module

dep:

libqtcore4 (>= 4:4.8.4) [sparc64]

dep:

libqtcore4 (>= 4:4.8.6) [sh4]

dep:

libqtcore4 (>= 4:4.8.7+dfsg-17) [riscv64]

dep:

libqtgui4 (>= 4:4.8.0)

Qt 4 GUI module

dep:

libsm6

X11 Session Management library

dep:

libsqlite3-0 (>= 3.5.9)

SQLite 3 shared library

dep:

libstdc++6 [riscv64]

GNU Standard C++ Library v3

dep:

libstdc++6 (>= 5) [не riscv64]

dep:

libsz2

Adaptive Entropy Coding library - SZIP

dep:

libtheora0 (>= 1.0)

Theora Video Compression Codec

dep:

libtiff5 (>= 4.0.3)

Tag Image File Format (TIFF) library

dep:

libvtk6.3

VTK libraries

dep:

libx11-6

X11 client-side library

dep:

libxext6

X11 miscellaneous extension library

dep:

libxml2 (>= 2.6.27)

GNOME XML library

dep:

libxt6

X11 toolkit intrinsics library

dep:

zlib1g (>= 1:1.1.4)

compression library - runtime
Изтегляне на ifrit
Изтегляне за всички налични архитектури

| Архитектура | Версия | Големина на пакета | Големина след инсталиране | Файлове |
| --- | --- | --- | --- | --- |
| alpha (неофициална архитектура) | 4.1.2-6+b1 | 1 731,0 кБ | 10 898,0 кБ | [списък на файловете] |
| amd64 | 4.1.2-6+b1 | 1 851,1 кБ | 9 943,0 кБ | [списък на файловете] |
| arm64 | 4.1.2-6+b1 | 1 695,2 кБ | 9 860,0 кБ | [списък на файловете] |
| armel | 4.1.2-6+b1 | 1 602,4 кБ | 8 639,0 кБ | [списък на файловете] |
| armhf | 4.1.2-6+b1 | 1 622,2 кБ | 7 795,0 кБ | [списък на файловете] |
| hppa (неофициална архитектура) | 4.1.2-5+b8 | 1 870,2 кБ | 10 565,0 кБ | [списък на файловете] |
| i386 | 4.1.2-6+b1 | 1 875,2 кБ | 9 545,0 кБ | [списък на файловете] |
| m68k (неофициална архитектура) | 4.1.2-6 | 1 768,9 кБ | 9 079,0 кБ | [списък на файловете] |
| mips | 4.1.2-6+b1 | 1 533,8 кБ | 10 633,0 кБ | [списък на файловете] |
| mips64el | 4.1.2-6+b1 | 1 484,5 кБ | 11 432,0 кБ | [списък на файловете] |
| mipsel | 4.1.2-6+b1 | 1 480,8 кБ | 10 637,0 кБ | [списък на файловете] |
| powerpcspe (неофициална архитектура) | 4.1.2-5+b2 | 1 679,0 кБ | 9 403,0 кБ | [списък на файловете] |
| ppc64 (неофициална архитектура) | 4.1.2-6 | 1 837,3 кБ | 11 800,0 кБ | [списък на файловете] |
| ppc64el | 4.1.2-6+b1 | 1 817,4 кБ | 11 399,0 кБ | [списък на файловете] |
| riscv64 (неофициална архитектура) | 4.1.2-6 | 1 786,5 кБ | 9 519,0 кБ | [списък на файловете] |
| s390x | 4.1.2-6+b1 | 1 755,5 кБ | 10 048,0 кБ | [списък на файловете] |
| sh4 (неофициална архитектура) | 4.1.2-6 | 1 979,5 кБ | 9 512,0 кБ | [списък на файловете] |
| sparc64 (неофициална архитектура) | 4.1.2-5+b4 | 1 583,5 кБ | 9 854,0 кБ | [списък на файловете] |
| x32 (неофициална архитектура) | 4.1.2-5+b8 | 1 766,6 кБ | 8 892,0 кБ | [списък на файловете] |