Пакет: ghkl (5.0.0.2456-1 и други)
Връзки за ghkl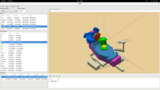 Ресурси за Debian:
Изтегляне на пакет-източник hkl.
Отговорници:
Външни препратки:
Подобни пакети:
diffractometer computation control application
The hkl library is a framework for diffraction computation and diffractometer control, heavily used at the SOLEIL synchrotron. It supports various types of diffractometer geometry: Eulerian 4-circle, Eulerian 6-circle, kappa 4-circle, kappa 6-circle, and z-axis geometry. For each of these it provides several numerically computed modes, such as bisector and constant psi.
This package provides a gui on top of the hkl library.
Други пакети, свързани с ghkl
dep:

libbullet2.86 [sh4]

Пакетът не е наличен

dep:

libbullet2.87 [не hppa, kfreebsd-amd64, kfreebsd-i386, sh4, sparc64]

professional 3D Game Multiphysics Library

dep:

libbulletcollision2.83.7 [hppa, kfreebsd-amd64, kfreebsd-i386, sparc64]

Пакетът не е наличен

dep:

libc0.1 (>= 2.17-91) [kfreebsd-amd64, kfreebsd-i386]

GNU C Library: Shared libraries
също и виртуален пакет, предлаган от libc0.1-udeb

dep:

libc0.3 (>= 2.4) [hurd-i386]

GNU C Library: Shared libraries
също и виртуален пакет, предлаган от libc0.3-udeb

dep:

libc6.1 (>= 2.4) [alpha]

GNU C Library: Shared libraries
също и виртуален пакет, предлаган от libc6.1-udeb

dep:

libg3d0 (>= 0.0.7)

library for loading and manipulating 3D model files

dep:

libgcc1 (>= 1:3.0) [не armel, armhf, hppa, m68k]

GCC support library

dep:

libgcc1 (>= 1:3.5) [armel, armhf]

dep:

libgcc2 (>= 4.2.1) [m68k]

GCC support library

dep:

libgcc4 (>= 4.1.1) [hppa]

GCC support library

dep:

libgl1 [не hppa, kfreebsd-amd64, kfreebsd-i386, sh4, sparc64]

Vendor neutral GL dispatch library -- legacy GL support
също и виртуален пакет, предлаган от libgl1-mesa-glx, libgl1-mesa-swx11

dep:

libgl1-mesa-glx [hppa, kfreebsd-amd64, kfreebsd-i386, sh4, sparc64]

transitional dummy package

или libgl1

Vendor neutral GL dispatch library -- legacy GL support
също и виртуален пакет, предлаган от libgl1-mesa-glx, libgl1-mesa-swx11

dep:

libglib2.0-0 (>= 2.37.3)

GLib library of C routines

dep:

libglu1-mesa

Mesa OpenGL utility library (GLU)

или libglu1

виртуален пакет, предлаган от libglu1-mesa

dep:

libgtk2.0-0 (>= 2.18.0) [hppa, kfreebsd-amd64, kfreebsd-i386, sh4, sparc64]

GTK+ graphical user interface library

dep:

libgtk2.0-0 (>= 2.24.32) [не hppa, kfreebsd-amd64, kfreebsd-i386, sh4, sparc64]

dep:

libgtkglext1

OpenGL Extension to GTK+ (shared libraries)

dep:

libhkl5 (>= 4.99.99.1950)

diffractometer computation control library

dep:

liblinearmath2.83.7 [hppa, kfreebsd-amd64, kfreebsd-i386, sparc64]

Пакетът не е наличен

dep:

libstdc++6 [riscv64]

GNU Standard C++ Library v3

dep:

libstdc++6 (>= 5) [не hurd-i386, riscv64]

dep:

libstdc++6 (>= 8.2.0-17) [hurd-i386]

dep:

libyaml-0-2

Fast YAML 1.1 parser and emitter library
Изтегляне на ghkl
Изтегляне за всички налични архитектури

| Архитектура | Версия | Големина на пакета | Големина след инсталиране | Файлове |
| --- | --- | --- | --- | --- |
| alpha (неофициална архитектура) | 5.0.0.2456-1 | 249,4 кБ | 1 933,0 кБ | [списък на файловете] |
| amd64 | 5.0.0.2456-1 | 249,8 кБ | 1 909,0 кБ | [списък на файловете] |
| arm64 | 5.0.0.2456-1 | 243,3 кБ | 1 897,0 кБ | [списък на файловете] |
| armel | 5.0.0.2456-1 | 236,0 кБ | 1 859,0 кБ | [списък на файловете] |
| armhf | 5.0.0.2456-1 | 235,2 кБ | 1 835,0 кБ | [списък на файловете] |
| hppa (неофициална архитектура) | 5.0.0.2173-2 | 502,5 кБ | 2 155,0 кБ | [списък на файловете] |
| hurd-i386 | 5.0.0.2456-1 | 253,6 кБ | 1 911,0 кБ | [списък на файловете] |
| i386 | 5.0.0.2456-1 | 253,1 кБ | 1 915,0 кБ | [списък на файловете] |
| kfreebsd-amd64 | 5.0.0.2173-2 | 500,3 кБ | 2 158,0 кБ | [списък на файловете] |
| kfreebsd-i386 | 5.0.0.2173-2 | 505,1 кБ | 2 160,0 кБ | [списък на файловете] |
| m68k (неофициална архитектура) | 5.0.0.2456-1 | 245,1 кБ | 1 891,0 кБ | [списък на файловете] |
| mips | 5.0.0.2456-1 | 244,0 кБ | 1 910,0 кБ | [списък на файловете] |
| mips64el | 5.0.0.2456-1 | 244,1 кБ | 1 916,0 кБ | [списък на файловете] |
| mipsel | 5.0.0.2456-1 | 245,8 кБ | 1 910,0 кБ | [списък на файловете] |
| powerpcspe (неофициална архитектура) | 5.0.0.2449-2 | 522,6 кБ | 2 214,0 кБ | [списък на файловете] |
| ppc64 (неофициална архитектура) | 5.0.0.2456-1 | 253,7 кБ | 2 011,0 кБ | [списък на файловете] |
| ppc64el | 5.0.0.2456-1 | 252,5 кБ | 1 941,0 кБ | [списък на файловете] |
| riscv64 (неофициална архитектура) | 5.0.0.2456-1 | 246,2 кБ | 1 873,0 кБ | [списък на файловете] |
| s390x | 5.0.0.2456-1 | 245,0 кБ | 1 913,0 кБ | [списък на файловете] |
| sh4 (неофициална архитектура) | 5.0.0.2173-2+b1 | 504,8 кБ | 2 133,0 кБ | [списък на файловете] |
| sparc64 (неофициална архитектура) | 5.0.0.2173-2+b1 | 495,1 кБ | 2 165,0 кБ | [списък на файловете] |
| x32 (неофициална архитектура) | 5.0.0.2456-1 | 249,0 кБ | 1 892,0 кБ | [списък на файловете] |