Пакет: freediams (0.9.4-2)
Връзки за freediams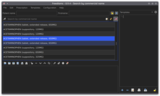 Ресурси за Debian:
Отговорници:
Външни препратки:
Подобни пакети:
pharmaceutical drug prescription and interaction manager
The FreeMedForms project provides a set of medical applications to help health professionals in their day-to-day practice. It is developed by an international community of medical doctors and computer specialists.
FreeDiams is a pharmaceutical drug prescription assistant which can be used to create complex prescriptions and to handle drug interactions.
Други пакети, свързани с freediams
Изтегляне на freediams
Изтегляне за всички налични архитектури

| Архитектура | Големина на пакета | Големина след инсталиране | Файлове |
| --- | --- | --- | --- |
| alpha (неофициална архитектура) | 1 006,5 кБ | 5 689,0 кБ | [списък на файловете] |
| amd64 | 1 090,1 кБ | 4 905,0 кБ | [списък на файловете] |
| arm64 | 915,5 кБ | 4 361,0 кБ | [списък на файловете] |
| armel | 875,3 кБ | 3 870,0 кБ | [списък на файловете] |
| armhf | 864,9 кБ | 2 934,0 кБ | [списък на файловете] |
| hppa (неофициална архитектура) | 1 040,2 кБ | 5 292,0 кБ | [списък на файловете] |
| hurd-i386 | 1 152,1 кБ | 4 798,0 кБ | [списък на файловете] |
| i386 | 1 151,1 кБ | 4 790,0 кБ | [списък на файловете] |
| kfreebsd-amd64 | 1 089,1 кБ | 4 905,0 кБ | [списък на файловете] |
| kfreebsd-i386 | 1 150,7 кБ | 4 790,0 кБ | [списък на файловете] |
| m68k (неофициална архитектура) | 990,6 кБ | 4 290,0 кБ | [списък на файловете] |
| mips | 800,7 кБ | 4 968,0 кБ | [списък на файловете] |
| mips64el | 820,5 кБ | 5 172,0 кБ | [списък на файловете] |
| mipsel | 824,6 кБ | 4 972,0 кБ | [списък на файловете] |
| powerpcspe (неофициална архитектура) | 908,5 кБ | 4 819,0 кБ | [списък на файловете] |
| ppc64 (неофициална архитектура) | 986,8 кБ | 5 917,0 кБ | [списък на файловете] |
| ppc64el | 987,2 кБ | 5 597,0 кБ | [списък на файловете] |
| riscv64 (неофициална архитектура) | 1 036,4 кБ | 4 063,0 кБ | [списък на файловете] |
| s390x | 953,6 кБ | 4 869,0 кБ | [списък на файловете] |
| sh4 (неофициална архитектура) | 1 282,0 кБ | 4 925,0 кБ | [списък на файловете] |
| sparc64 (неофициална архитектура) | 851,7 кБ | 4 437,0 кБ | [списък на файловете] |
| x32 (неофициална архитектура) | 1 094,2 кБ | 4 538,0 кБ | [списък на файловете] |