Пакет: slapos-client (1.3.18-1)
Връзки за slapos-client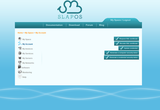 Ресурси за Debian:
Изтегляне на пакет-източник slapos.core.
Отговорници:
Външни препратки:
Подобни пакети:
Client-side to request applications with SlapOS
SlapOS allows one to turn any application into SaaS (Software as a Service), PaaS (Platform as a Service) or IaaS (Infrastructure as a Service) without loosing your freedom. SlapOS defines two types of servers: SlapOS server and SlapOS node.
This package contains libraries and tools to requests software releases and computer partitions.
Други пакети, свързани с slapos-client
sug:

pyflakes

passive checker of Python 2 programs
Изтегляне на slapos-client
Изтегляне за всички налични архитектури

| Архитектура | Големина на пакета | Големина след инсталиране | Файлове |
| --- | --- | --- | --- |
| all | 58,9 кБ | 297,0 кБ | [списък на файловете] |