Пакет: packit (1.6.1-2) [debports]
Връзки за packit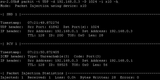 Ресурси за Debian:
Изтегляне на пакет-източник .
Няма съвпадения
Отговорници:
Външни препратки:
Подобни пакети:
network packet generator and capture tool
Packit (PACket toolKIT) is a network auditing tool. It uses libpcap and can make real packages (frames) that are able to travel in a network. Packit also allows one to add personalized payloads. Other good feature is the possibility to read dump files created by tcpdump.
Packit has an ability to customize, inject, monitor and manipulate IP traffic. By allowing you to define (spoof) nearly all TCP, UDP, ICMP, IP, ARP, RARP, and Ethernet header options, Packit can be useful for the following scenarios:

   - tests in firewalls;
   - tests in Intrusion Detection Systems (IDS);
   - tests in Intrusion Prevention Systems (IPS);
   - tests in proxies;
   - tests in port scanning detectors;
   - network traffic simulations;
   - security tests; and
   - general TCP/IP auditing and pentests.

Packit is also an excellent tool for learning TCP/IP. However, this program does not support IPv6.
Други пакети, свързани с packit
dep:

libc6 (>= 2.27)

GNU C Library: Shared libraries
също и виртуален пакет, предлаган от libc6-udeb

dep:

libnet1 (>= 1.1.2.1)

library for the construction and handling of network packets

dep:

libpcap0.8 (>= 0.9.8)

system interface for user-level packet capture
Изтегляне на packit
Изтегляне за всички налични архитектури

| Архитектура | Големина на пакета | Големина след инсталиране | Файлове |
| --- | --- | --- | --- |
| riscv64 (неофициална архитектура) | 37,1 кБ | 88,0 кБ | [списък на файловете] |