Пакет: feedreader (2.10.0-1) [debports]
Връзки за feedreader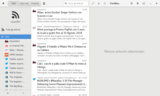 Ресурси за Debian:
Изтегляне на пакет-източник .
Няма съвпадения
Отговорници:
Външни препратки:
Подобни пакети:
simple client for online RSS services like tt-rss and others
Modern desktop application designed to complement existing web-based RSS accounts.
FeedReader combines all the advantages of web based services like synchronisation across all your devices with everything you expect from a modern desktop application.
Други пакети, свързани с feedreader
Изтегляне на feedreader
Изтегляне за всички налични архитектури

| Архитектура | Големина на пакета | Големина след инсталиране | Файлове |
| --- | --- | --- | --- |
| riscv64 (неофициална архитектура) | 785,5 кБ | 4 283,0 кБ | [списък на файловете] |