Пакет: radare2-cutter (1.7.4-2)
Връзки за radare2-cutter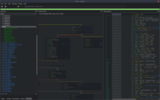 Ресурси за Debian:
Изтегляне на пакет-източник radare2-cutter.
Отговорници:
Външни препратки:
Подобни пакети:
GUI for radare2 reverse engineering framework
Cutter is a Qt based GUI for reverse engineering binaries, which makes use of the radare2 framework. Advanced users are expected to use the radare2 CLI tools instead, which are much more powerful.
Други пакети, свързани с radare2-cutter
Изтегляне на radare2-cutter
Изтегляне за всички налични архитектури

| Архитектура | Големина на пакета | Големина след инсталиране | Файлове |
| --- | --- | --- | --- |
| amd64 | 770,7 кБ | 2 974,0 кБ | [списък на файловете] |
| arm64 | 714,7 кБ | 2 974,0 кБ | [списък на файловете] |
| armhf | 688,7 кБ | 2 149,0 кБ | [списък на файловете] |
| i386 | 826,8 кБ | 2 937,0 кБ | [списък на файловете] |
| mipsel | 667,1 кБ | 3 358,0 кБ | [списък на файловете] |