Пакет: dablin (1.11.0-2)
Връзки за dablin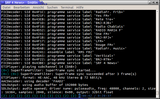 Ресурси за Debian:
Изтегляне на пакет-източник dablin.
Отговорник:
Външни препратки:
Подобни пакети:
CLI and GTK+ GUI DAB & DAB+ receiver client
This plays a DAB and DAB+ audio service – either from a received live transmission or from a stored ensemble recording (frame-aligned ETI- NI). Both DAB (MP2) and DAB+ (AAC-LC, HE-AAC, HE-AAC v2) services are supported by DABlin.
Други пакети, свързани с dablin
Изтегляне на dablin
Изтегляне за всички налични архитектури

| Архитектура | Големина на пакета | Големина след инсталиране | Файлове |
| --- | --- | --- | --- |
| mipsel | 114,7 кБ | 517,0 кБ | [списък на файловете] |